Grundfos Technical Institute
Did you know that Grundfos offers free pump and application training?
Find out more about what Grundfos offers!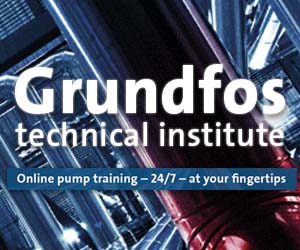 Now Available on Sloan.com
You can now access training resources online from the world's leading manufacturer of commercial restroom products. Visit our training website and register to attend upcoming webinars or access previous sessions.
Training on the
GO
!
Stay ahead of the competition – learn about Watts products anytime, anywhere!
BONUS – Learn & Earn program!
Plumbing Professionals can now earn tokens redeemable for merchandise!
Register now at training.watts.com
2020 Cross Connection Control Foundation
- Course for Backflow Testing Certification -
Course Schedule:
Initial Course
Recertification
March 23 – 26 - Now Full

  (Cancelled due to the Covid-19 Pandemic)

March 20 – Now Full

  (Cancelled due to the Covid-19 Pandemic)


March 27 – Now Full

  (Cancelled due to the Covid-19 Pandemic)

June 8 - 11 – Now Full
June 5 – Now Full
June 12 - Now Full
September 14 - 17
Sept 11
Sept 18
October 19 - 22
Oct 16
Oct 23
December 7 - 10
Dec 4
TIME:
Promptly at 8 am to 4:30 pm
WHERE:
MCC Applied Tech. Center
2485 West Henrietta Road
Rochester, NY 14623
For registration/additional information:
cccfnf.com/school-info/
Want to learn more about our products?
Try our Lunch and Learn program!
We offer a Lunch and Learn program at your location or ours with our personnel. We also, upon request, can have a factory representative come in for additional training seminars. Please let your salesperson know if you are interested in this program. Alternatively, send us an email at customerservice@wmssales.com or use the contact page via the button below.